Davido angrily replies troll who wished for his death
Nigerian singer, songwriter, and record producer David 'Davido' Adeleke respond to a troll on Twitter who expressed a desire for his death.
A Twitter user, @Winco_3, make the statement while sharing a video clip of Burna Boy's music performance in the Netherlands.
Speaking on how filled the venue was, he insinuated that Davido's funeral would not gather as many people as the crowd in the shared video.
Even Davido's burial would be free can't pack this crowd. Know your mate," the troll wrote.
In a post on Sunday morning via his Twitter account, Davido questioned the user who had expressed a death wish towards him.
While quoting the tweet, Davido asked "So u want me to die? Reason being? What have I personally done to you to have you wish death on me. Anyways I'm not going anywhere! I WILL LIVE LIFE TO THE FULLEST."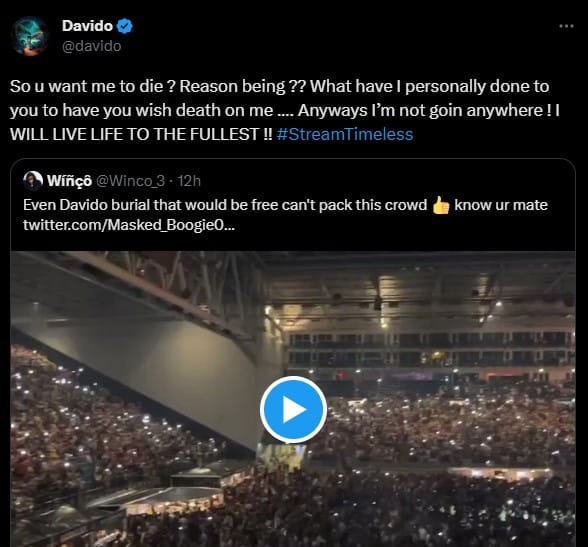 In reply to a fan who urged the singer to snub such trolls, he responded;
"If nobody wants to talk I WILL. you guys will hurt the wrong person one day. Not everybody is strong and can take it for years like I've done! Me no send but one day these people will hurt the wrong person."