"I'm the first millionaire in my family, no one has been this successful" — Singer Crayon
Nigerian singer Charles Chibueze Chukwu also known as Crayon has taken to social media to reflect on his success.
Crayon tweeted that he was the first millionaire in his extended family and that no one else has been as successful as him in his lineage.
The Mavin Records signee says that God has raised him to end the cycle of poverty in the family.
He tweeted,
"I'm a living testimonies of God! I'm the first STAR in my family! Both from my mum's and my dad's! Generations, before me nobody has been this successful in my family! I'm the first millionaire in my family! God raised me to break that generational curse!
IAM "THE ONE""
See below,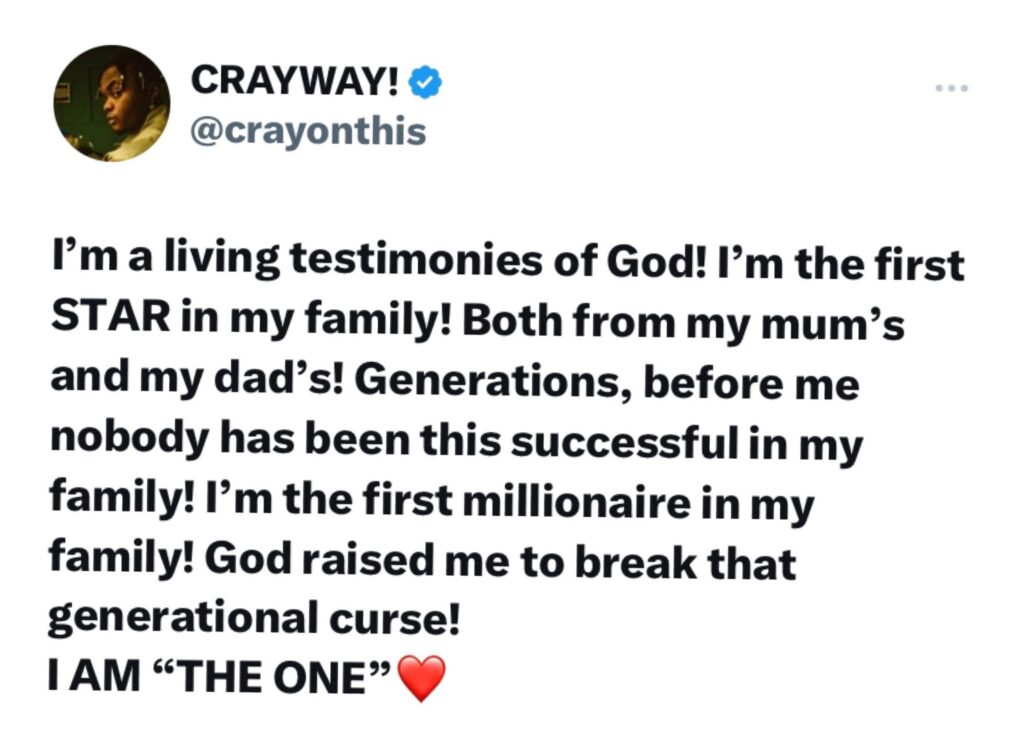 Meanwhile, the tweet has sparked varying reactions on social media with some berating him for speaking lowly of his family,
@tinnnnnnnnnnnnnnnnnny wrote, "This is somehow absurd , just to get likes u diss your whole family ?
U don't come out and say something of such"
@akpemerita wrote, "Na competition, stop bringing down your family members."
@Mrgeorgia_ wrote, "Too much talk. How about you thank God in private and keep working. I can assure you many more are coming and hope you won't be jealous when another family member gets wayyyy richer than you"
@teezpapi_ wrote, "I don't think this is ever right to say..There are certain infos I can't spill out for life"