Nigerian chef, Hilda Baci denies charging N25K for meet and greet
A trending report alleging that Nigerian chef, restaurateur, and the current holder of the Guinness World Record for marathon cooking chef Hilda Baci is charging N25,000 for a meet-and-greet event in Abuja has triggered reactions from Nigerians online.
A flier promoting the alleged event, which includes a live cooking and food-tasting session, surfaced on the internet on Friday and sparked massive reactions, bringing her to the Twitter trend table.
In response, social media commentator Daniel Regha criticized Hilda, saying, "Hilda Bacis is nothing without Nigerians. If the masses didn't support and get her trending, many celebs wouldn't show up to fake hype her Cookathon. It's a sad but honest truth. Her meet and greet should be free as a way to show appreciation. Charging N25k (if true) is ridiculous."
See more reactions as you scroll.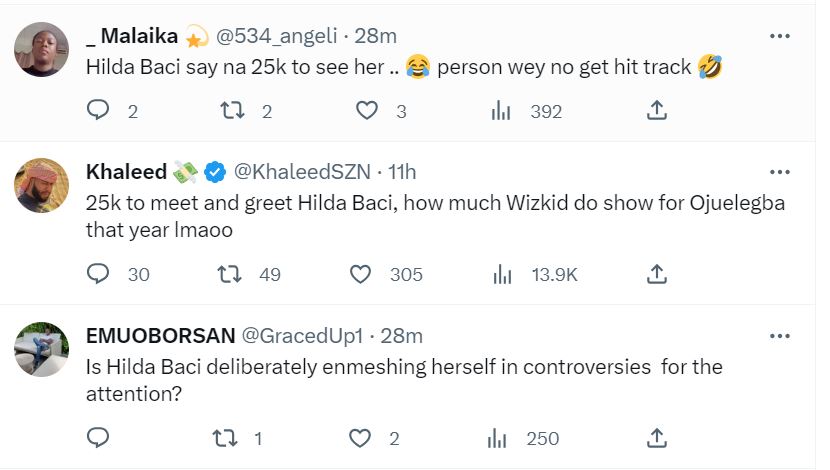 However, Hilda, who recently broke the Guinness World Record for the longest cooking time by an individual, has now debunked the report as false.
Taking to her Twitter handle, she wrote, "Hi everyone, this is to inform everyone that I'm not doing any meet and greet in Abuja. I would also never ask anyone to pay for such. Thanks."
When a Twitter user claimed that the tweet was just damage control in response to the reactions the alleged event triggered, Hilda responded;
"@CryptofixPro If I didn't come out to say something, y'all would say I let them scam people. Now I've come out to let you know it's not coming from me. It's damage control How would I do a meet and greet that I'm charging for and not post it on any of my social media platforms?"
If I didn't come out to say something y'all will say I let them scam people now I've come out to let you know it's not coming from me it's damage control how will do a meet and greet that I'm charging for and not post it on any of my social media platforms