"Talk and do kind of man" — Judy Austin gushes over Yul Edochie, netizens fume
Once again, the well-known Nollywood actress, Judy Austin, faces criticism after publicly expressing her affection for her husband, Yul Edochie.
Yul had recently used Instagram to shed light on his reasons for attending the final verdict of the Presidential Election Tribunal on Wednesday.
In response to his post, Judy Austin openly praised her husband, commending him for being a man of action who follows through on his words. She also expressed her support for his political aspirations with a brief prayer that resonated with social media users.
"ISI MMILI JI OFOR 🙌🙌🙌🙌 talk and do kind of man!!! God is with you always. ❤️❤️," she wrote.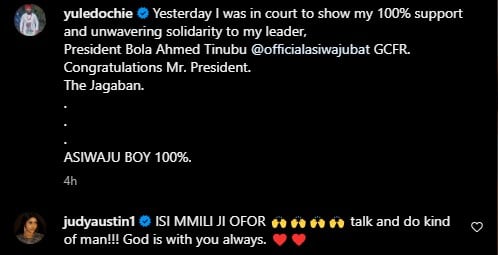 jennyb4382 wrote: "jezebel always calling God all time with ur evil heart 1d1ot ashawo kobokobo with ur routen pekus anoufia"
enock_vicky_ebah stated: "1 pls go and pay @officialsarahmartins money 1m no be garlette"
nwuke_precious wrote: "u and ur isi mmili bu nnukwu mkpi. Fools"
exponent25 said: "I like you but what is this God this and that? Like having sex with another woman's husband?"
jennifereverest24 penned: "useless woman, husband snatcher, home destroyer, wicked soul 😢"