Taylor Swift postpones Rio de Janeiro concert after death of fan
Taylor Swift has rescheduled her Rio de Janeiro concert, originally set for Saturday, following the tragic death of a fan just before her Friday performance.
The decision was made as thousands had already gathered at the stadium for her record-breaking Eras tour. Swift took to Instagram to express, "The safety and well-being of my fans, fellow performers, and crew has to and always will come first."
Complicating matters, Brazil is currently grappling with an unprecedented heatwave, prompting health alerts due to the extreme temperatures in Rio, reaching 39.1C on Friday. Authorities issued warnings about the life-threatening conditions.
Despite the unfortunate circumstances, Swift assured fans that her show scheduled for Monday will proceed as planned.
In an Instagram statement, the pop star conveyed her devastation over the loss of the fan, describing her as "incredibly beautiful and far too young," expressing a shattered heart.
"I can't believe I'm writing these words but it is with a shattered heart that I say we lost a fan earlier tonight before my show," Swift wrote.
"I can't even tell you how devastated I am by this."
Swift, 33, said she would not be able to speak about the incident from the stage because she felt "overwhelmed by grief" whenever she tried to talk about it.
"I want to say now I feel this loss deeply and my broken heart goes out to her family and friends."
She added that this was "the last thing" she thought would happen when she brought the tour to Brazil.
Swift said she had little other information about the death.
However, according to the Brazilian newspaper Fohla De Sao Paolo, the fan fainted at the stadium and later died, with the cause of death being given as cardiorespiratory arrest.
In videos and pictures circulated on social media, Swift was later seen urging staff at the stadium to give water to fans during the concert.
At one point, while singing All Too Well, she was seen throwing a water bottle into the crowd.
Swift's Instagram story, commenting on the death of the fan, was posted after the show.
Brazil's Justice Minister Flávio Dino posted on X (formerly known as Twitter) that fans must be allowed to bring in water bottles to the venues.
He ordered the company organizing the Eras Tour in Brazil, T4F Entertainment, to provide fans with free and easily accessible drinking water.
The minister's statement came after concert-goers were banned from bringing in their water bottles.
The global pop sensation arrived in Brazil earlier this week for her record-breaking tour, with Rio de Janeiro's Christ the Redeemer statue illuminated to welcome her to the country.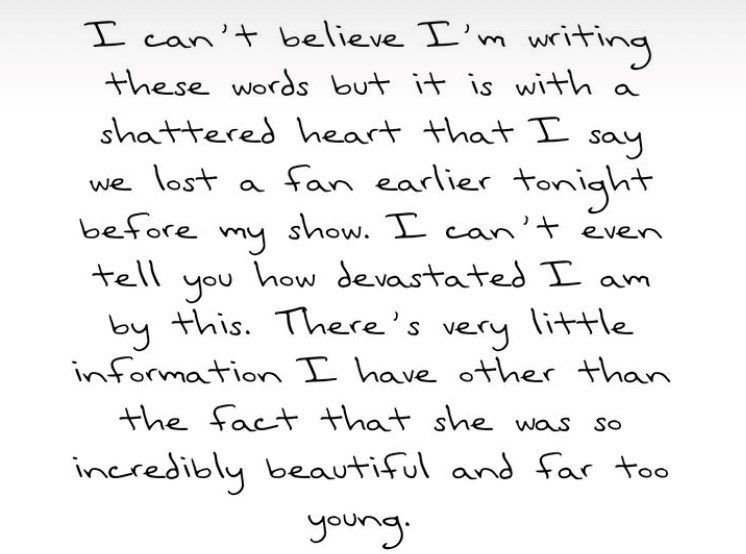 The pop star is due to play two more shows in Rio before heading to Sao Paulo.
Swift had to cancel previously scheduled performances in the country because of the Covid-19 pandemic.
She is coming to the UK in June 2024, where she will play Edinburgh, London, Liverpool, and Cardiff.
The BBC has approached T4F Entertainment, for a response.