"You are the worst friend I have" – Actor, IK Ogbonna slams his bestie, Alex Ekubo for exposing their chat online
IK Ogbonna, a popular Nollywood actor, has criticized his best friend, Alex Ekubo for sharing their private conversation on social media.
Alex posted a photo of his conversation with IK on his Instagram page, on Thursday, April 19. It began as normal football banter between the two actors but quickly degenerated into a war of words between the actors.
The duo hurled insults at each other as Alex is seen in the chat calling IK derogatory names like 'swine', 'animal', 'ewu', and so on.
IK said that the ghost of his mother would slap Alex in the face if he insulted him.
However, the drama took a different turn when IK made a grammatical error and misspelt 'once' as 'ones'. Alex capitalized on this mistake and brutally mocked IK.
He also said he doubts if IK attended primary school because of his failure to spell 'once' correctly, and demanded for pictures of him in primary school.
As if that was not enough, Alex took the fight to his Instagram page with over 4 million followers to ridicule IK.
"Pls I need 5 people to confirm they attended primary school with @ikogbonna because i don't understand the immigrant spelling," he captioned the chats.
However, this didn't sit well with IK who knocked him for exposing their chats, and called him a bad friend.
He commented, "You are the worst friend I have had in a long time. Stupid mental ewu."
See below,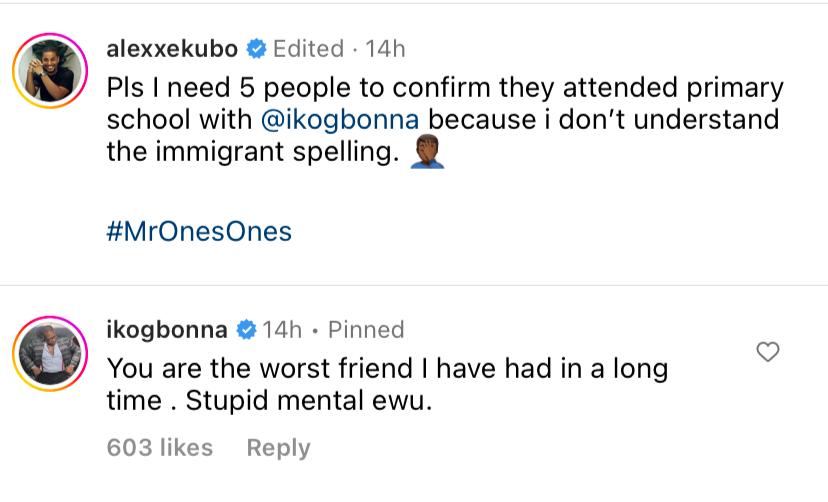 Read their chat as your scroll,