Paylater: Get a quick loan in 30 minutes
You can call this an honest review or a feedback and by the time you finish reading this article, I am sure you will find this information very useful especially if you are willing to start a business and you need little capital to get started. If you don't have any family or friends to go to for help, you can actually get this financial assistance through www.paylater.ng.
I was on Facebook yesterday when I saw an advert on how you can obtain a loan online and paylater.
I decided to follow the link to confirm how genuine it is. Alot of my students have been asking me if this option is available online and I promised to update them if anything like that comes up.
Infact, as I was just about publishing this post, another email came in from one of my students again requesting for the same information. See the message below…

You asked for it, now you got it…
The good news is that this company I'm about to tell you about is actually genuine and legitimate. My job is to confirm how authentic an information is before bringing it to you and I have done just that. If you have seen their advert but you are not sure if it's legitimate or not or maybe you are just hearing about paylater.ng for the first time. I am happy to tell you that, the company is legitimate and their service is simply amazing!
Paylater® is a simple, entirely online lending platform that provides short-term loans to help cover unexpected expenses or urgent cash needs.
With just an Android device and basic requirements, you can apply for a Paylater loan 24 hours a day, 7 days a week with a quick application process that lets you know your status within minutes.
No collateral, guarantors or application fees required. Just a few clicks of a button.
They currently offer two loan packages:
PAYLATER (loans available to all) & PAYLATER PLUS (loans for salary earners). I'll discuss both in a bit more detail below, so you can decide which best fits your needs.
If you take a loan and pay back on time, it qualifies you to take a higher loan in future. I am not affiliated to this company but because I love to share information that will be useful to you in one way or the other, that is why I am sharing this information with you and to prove to you that this company is legitimate as they claimed. I decided to test their service for confirmation purpose. And I am going to show you all the steps I took to get this done.
Let's head on to their website
Click on log in/register.
You will log into their website through your Facebook account .
Click on Okay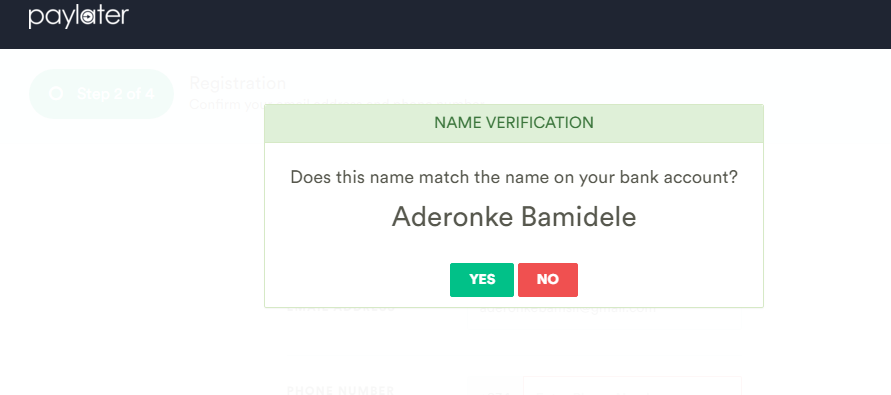 If the name on your Facebook account matches the one on your bank account, click on YES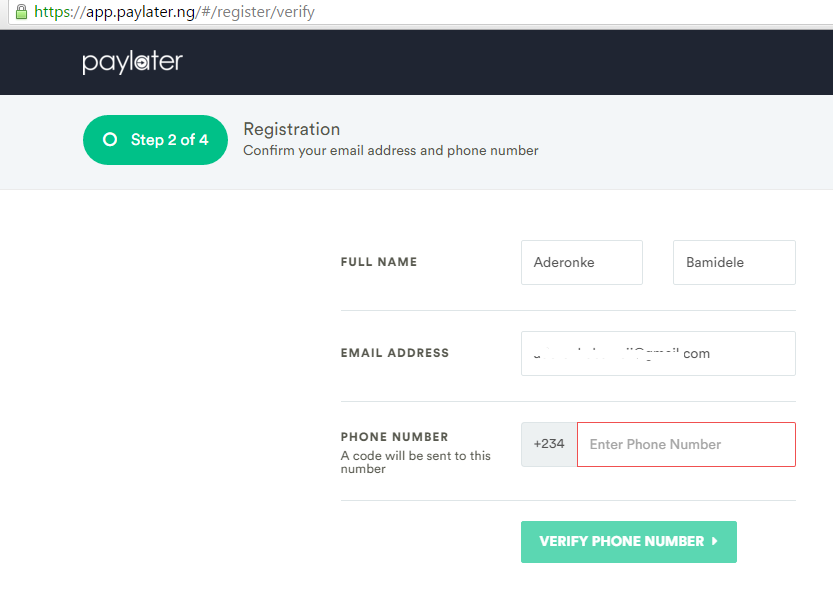 Complete the registration form
You will answer all the questions truthfully. They will ask you personal questions including your BVN. Fear not, they only need this to confirm if you are genuine or not. They will also ask you for your account details. If you answer all the questions appropriately, you will be able to submit the registration form and a verification code would be sent to your phone. Once you are logged in, you will then request for the loan that you want.
As at the time of writing this post, the minimum amount they can give you is N10,000 and the interest rate on N10,000 is N1,500 if you decide to pay back in 14days as you can see in the image below. Your account would be credited in 24hours and you will be given the due date to pay back the loan. As of now, they give loans up to N500,000

I don't need the loan, I only applied for it so I can write this report, I got an alert on my phone within just 2hours of applying for this loan. So you can confidently ask for a small loan on the website and pay back within 2 weeks or one month. Please note that, paying back in one month would attract an interest rate of N3,000 while paying back in 2 weeks would only attract an interest rate of N1,500.
I paid back in less than 24hours that I got the loan and I still paid the normal interest rate they charged me which is N1,500 on the N10,000. So even if you paid back earlier than the time you selected, they would still charge the same interest rate
HOW DO YOU PAY BACK
See how I paid back the loan after I got it.
Once you log into your dashboard, you will see the current loan you have applied for and you will also see the PAY NOW button. Click on it and the page below would come up.
I selected mastercard because I intend to use my atm card to pay online. If you want to make the direct deposit into their account, you will click on Cash payment and their account details would be displayed. If you want to pay online using your atm card like myself, click on the button with mastercard logo and the page below would come up
Enter your credit card details appropriately and click OK once you are done
The transaction would be processed in few minutes and the payment would be settled as you can see displayed below
With Paylater, getting funds have never been easier. Whether you're a student, business owner, salary earner, or just in between jobs and in need of funds, Paylater can help meet any urgent cash needs you have.
Here is what they wrote on their site regarding their service….Read below
With The Paylater Ladder, we help you build your credit and progressively obtain larger loans with continued usage of our service.
With a robust rewards system that increases your level as you display good borrower patterns — such as repaying loans on time and referring friends to the service — you can quickly rise up the ladder and be trusted for larger loans with longer repayment periods.
You can also chat with our agents directly in the app to help resolve any questions or account issues that may come up. We're always happy to be of assistance!
---
PAYLATER PLUS
Are you a salary earner?
Have you been in your current employment for at least a year?
Do you earn a consistent monthly income?
If you've answered yes to all these questions, then why waste weeks applying for a traditional loan when you can be approved and receive funds in no time at all?
With Paylater Plus, say goodbye to long and inefficient processes and get a loan of up to NGN500,000 with complete convenience.
Paylater Plus requires additional documents to verify the information provided on your application. If you are asked to provide documents, you may submit by uploading directly in the app, or send an email to documents@paylater.ng with the below documents attached for review.
Our rates are competitive and vary depending on how many points you have earned, with loan repayments spread out over monthly installments.
---
GET STARTED
It's simple! Just follow the steps below to apply for a Paylater loan:
1. Download the Paylater app here
2. Register your personal details
3. Choose your desired loan amount and duration
4. Submit your application. You will get a loan decision in seconds.
5. If approved, your account is credited within 30 minutes.
---
CONTACT US
Paylater is a service provided by One Finance & Investments Limited (RC No: 1044655), a licensed Finance company. You may contact us here for more information and feedback:
EMAIL: customer@paylater.ng
SOCIAL MEDIA: www.facebook.com/Paylater & www.twitter.com/PaylaterNG
If you find this post useful, feel free to share this post with your friends and family and remember to ask questions and share your views in the comment section below.
Happy Easter celebration to you and your family…
Memo– This message is for people who are skeptical about giving out their BVN. To the best of my knowledge, BVN is a Bank Verification Number, meaning, it can only be used for verification purposes.
It can also be used in cases of Fraud. Therefore, to this company, your BVN is just like a collateral. If not, why would a company that does not know you from Adam be willing to part with their money just like that?
If you refused to pay back the loan, how will they be able to take a legal action against you?
If you are saying that someone can take money from your account without your permission through your BVN, does it now mean that, if you should write your BVN somewhere and someone gets to see it, that means for security reasons, you need to go back to your bank and request for a new BVN ?
Let's not be too ignorant about certain things, BVN is not your atm Pin or card details. It is simply a verification number used for verification purposes and if you are still not convinced, you don't need to bother yourself about taking a loan from this company. You can simply ignore the information.
A lot of people have benefited from this information already. It is a matter of choice not a must. Thanks for reading !